Here's where you get the top-secret info: the Car Idiots Forever™ version of Where's Waldo!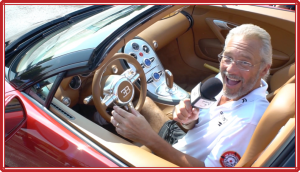 So, why is this something you want to know?
Well, first of all, it's Bernie. 'Nuff said.

Second, these are some of the best (or at least closest and best) car events. Bernie plans to attend them, and he wants to make sure you know about them, too. You're welcome.

Third, come up and introduce yourself to Bernie that day. You may just be our next featured Car Idiot Forever™!
HINT: Visit our Upcoming Events page to get a more complete list of what's going on this year even if, sadly, Bernie will not be attending.
HINT 2: Want to connect with fun people, events, clubs, places and causes? Visit our Helpful Links page . . . it's just that easy!
HINT 3: Got somewhere you definitely think Bernie should be? Contact Us and let him know!
February 21-March 1, 2020
Attractions include Rides and Drives, Vehicle Giveaway, Millionaire's Row, Classic Car Competition and other Special Features. At the I-X Center, One I-X Drive, Cleveland, OH.
Friday: 5 pm-10 pm

Monday-Thursday: 11 am-9 pm

Friday-Saturday: 11 am-10 pm

Sunday: 11 am-8 pm
This year's theme: March Motor Mania. In addition to the plethora of car clubs, the show offers the Hot Rodders of Tomorrow Engine Challenge, Pinup Contest, performance shops, model car contest, Fatman's Invasion and Hot Rod Asylum. See our Upcoming Events and our Auto Shows pages for more info. Need more reasons to go? Watch our 2019 Auto-Rama interviews.