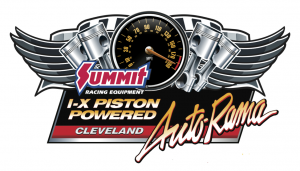 The 2020 Piston Powered Auto-Rama, sponsored again by Summit Racing Equipment, is slated for March 13-15, 2020 at the I-X Center in Cleveland, Ohio. The theme this year: March Motor Mania.
Some of the highlights:
Student Career Day

Pinup Contest

Krazy Paint Hot Rod Art for Charity

Fatman's Invasion

Hot Rod Asylum

Model Cars

Celebrity Visits
Applications are available now!
Click here to go to the Piston Powered Auto-Rama website to register, get tickets or just get info. See you there!
Oh, and while you're waiting for March to roll around:
Visit our

Open Roads

page to read our interview with Steve Legerski, Auto-Rama manager to get the details about all that happened at the 2019 show.
And check out the interviews from the 2019 Auto-Rama.
Click on the flyers below for more info.