Welcome to the World of Dr. Redline!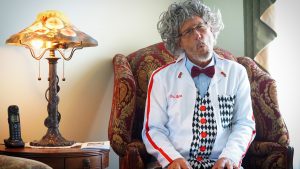 Wondering about your passionate obsession with all things automotive? Find yourself at auto odds with the people in your life? Just can't let go of that flashing neon sign that advertises your favorite marque?
Dr. Redline is here to help! Watch the videos below! Read his eBook! Drop him a line and ask anything that's on your mind. He -- and the rest of your car clan -- are here for you!
CAR IDIOTS FOREVER - EPISODE 2: The 2019 Best of the I-X Center Piston Power Auto-Rama!
Take a trip with our Top 5 Car Idiots from the I-X Center Summit Racing Equipment Piston Power Auto-Rama! Who made the cut?
DR. REDLINE - BOWEL SYNDROME
With the help of his hero, Sigmund Freud, Dr. Redline explains the prevalent condition of Bowel Syndrome and how it explains the car enthusiast's deep desire to collect cars.
DR. REDLINE - AROMIC INTOXIA
Dr. Redline demonstrates aromic intoxia, the experience of euphoric pleasure and physical gratification in the presence of fresh upholstery. It is not uncommon for some car collectors to faint from the elation after getting a good whiff of freshly stitched leather seats.
CAR IDIOTS FOREVER - EPISODE ONE
In Episode One, we meet Dr. Redline, visit with Char Lautzenheiser of the Canton Classic Car Museum and learn how automobiles fashioned a relationship between Tom Ruple of Ruple Antique Cars and his significant other, Sharon.