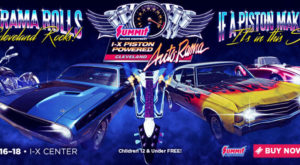 SUMMIT RACING EQUIPMENT I-X PISTON POWERED AUTO-RAMA 2018
Cleveland, Ohio
March 16-18, 2018
The 2017 Summit Racing Equipment I-X Piston Powered Auto-Rama brought out the very best of the Car Idiots!  You gotta see who!  

GREGG PRUITT
During the I-X Piston Powered Auto-Rama, we had the distinct honor to interview Gregg Pruitt, one of the best-known running backs and kick returners for the Cleveland Browns since Jim Brown and Leroy Kelly. Pruitt (No. 34) from the heyday of the Browns (1979-81) admits with pride that he is a Car Idiot Forever. His passion for his 1951 Chevy truck is evident as he openly acknowledges his love for not only that vehicle but for the whole aspect of the car collector hobby.

JERRY ROMAN
Who is one of the coolest Car Idiots on the planet?  Bernie finds out!

DAVE WALLENCHECK
Dave Wallencheck from Redline Radio LLC talks with Bernie Golias

GENE SCHWARTZ
Chief Car Idiot Bernie Golias interviews Gene Schwartz, former bass player for Robert Lockwood, Jr and Pacific Gas & Electric

LORRAINE SCOTT & DR. REDLINE
Bernie talks with Lorraine Scott about her passionate obsession, and Dr. Redline sits down with a fellow Car Idiot to discuss his inner car idiocy

JIM BROWNING, JR
Chief Car Idiot Bernie Golias interviews Jim Browning, Jr

MIRIAM L. KUNDA
Miram sat down with Chief Car Idiot Bernie Golias and recounted some fond memories of car idiocy regarding her husband!  Can you relate? Let us know!

NICK KAURICH
Chief Car Idiot Bernie Golias interviews Nick Kaurich of the Choppers Hot Rod Association

PAMELA & JOE MAZZOLA
Pamela and Joe have been at it since high school! See what qualifies them as Car Idiots!

ROY PASINI
Chief Car Idiot, Bernie Golias, talks cars with longtime collector Roy Pasini

STEVE LEGERSKI
Chief Car Idiot Bernie Golias talks with Steve Legerski at the 2018 I-X Center Piston Powered Autorama