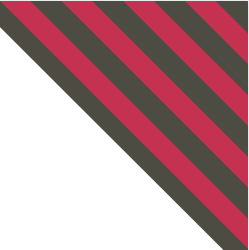 Hello! My name is Cody Crowley, and I am a Car Idiot from Covina, California.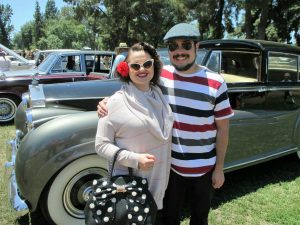 I have been into classic cars from a very young age, ever since watching American Graffiti, The Love Bug and The Great Race on VHS. Going to The Petersen Automobile Museum with my parents also shaped my love for the classics.
But then I discovered British cars! Triumphs, MGs, Jaguars, Austin Healeys . . . here were something completely different from the 1950s American cars. Then came the French cars, Italian cars and even Soviet cars (the Volga was my favorite).
The older I grew, the more of an encyclopedic knowledge I gained about foreign classics. I could probably tell you what the designers had for breakfast and what time they went to the bathroom.
When I finally got my driver's license, I hoped to get a 1965 Volkswagen Beetle, but it never happened. But, at age 19, I saved up enough money, joined the local Triumph club and bought a 1969 Spitfire Mark III nicknamed Roller Skate by the previous owner. I kept the name. I thought I did my homework and picked a winner, but a few months later I discovered during an oil change that the dreaded thrust washers had fallen out and my engine was toast. I could either get out now with my finances and sanity or keep it and fix it. I chose the latter. With a loan from my dad, I got the engine rebuilt and enjoyed my Spitfire for almost six years.
In between, I decided I wanted a second classic to use for my daily driving . . . something with a roof and four doors. After contemplating either an Alfa Romeo Giulia or Berlina (which I couldn't afford), I settled on a right-hand-drive Austin 1300 GT, locally imported from New Zealand!  I nicknamed it The Kiwi Taxi, thanks to its bright yellow paint.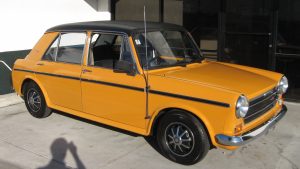 But it wasn't to last. It broke down the day I picked it up from the mechanic selling it (bad ignition coil), and it dumped antifreeze all over our patio when I parked it overnight (loose hose clamps). I got these fixed and enjoyed the Kiwi Taxi for nearly two months. Sadly, the final straw was when the entire exhaust system fell off on my way to my part-time job and dragged underneath. I sold it to a Seattle Mini collector who fixed it and enjoys it to this day.
While he liked my Spitfire, my dad got bored of riding with me and wanted a Triumph of his own. A month later, he bought a beautiful red TR4 with wire wheels; we named it Ferris after the Ferris Bueller Ferrari. It was definitely a car I wanted to sneak out of the garage!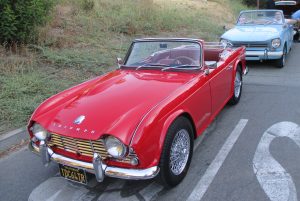 Shortly after my Dad's purchase of the TR4, I met a little lady who is now my wife. Following a dreadful weekend trip in my Spitfire, we decided we needed a bigger, better Triumph, preferably with a back seat (for future kids). A good friend in the club had a 1964 Triumph Herald 1200 convertible and suggested we try it out.
We loved it!
So, I posted my Spitfire on the Herald Forum for trade. The next day, an Englishwoman from Colorado shared pictures with me of a beautiful, sky-blue Herald 13/60 convertible, and I was blown away! How did this rare left-hand-drive beauty make its way to the US? Turns out, it was imported from the Bahamas and restored before the Englishwoman acquired it. The owner was looking for something sporty since her daughter was grown, and we were looking for the exact opposite.
We did a straight-across trade, and both parties walked away extremely happy! Harriet the Herald now lives with us, and I will never sell her . . . she is too special of a car, and the way I happened to find her is even more special.
My next plan? Try to find a Jaguar Mark X or 420 Saloon as my next daily drive. Classic cars are ingrained in my blood, and I'm proud to be called a Car Idiot Forever!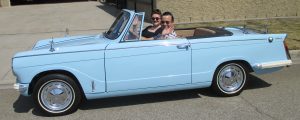 Best Regards,
Cody Crowley